Religious Education for Children and Youth
We believe that faith is a journey we take together.
Religious education takes a lifetime. It happens both within and beyond a congregation's walls. We support one another as individuals, families, and communities in an ongoing search for truth and meaning. We strive to guide one another—all ages among us—in religious questioning, personal change, and discovering ways to better live in faith.-UUA.org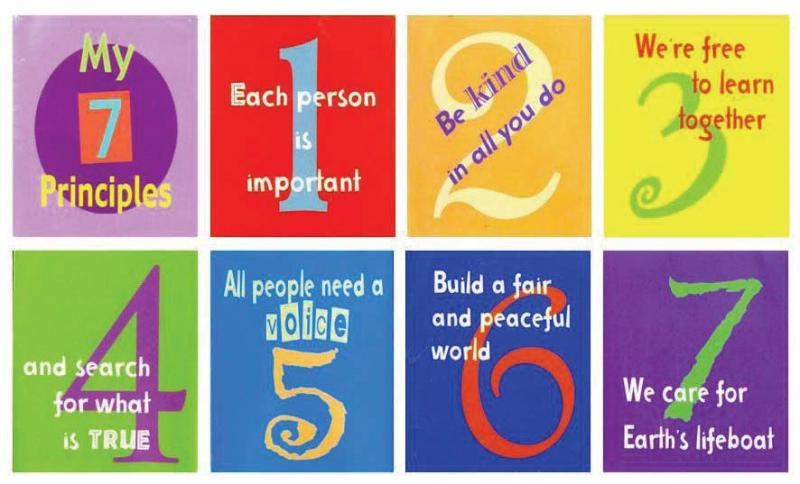 Families are welcome to visit the RE program three times before registering their children/youth for the program. After three visits, please fill out this RE Registration form for all of your children/youth.
Where do you and your children fit in?
Infant/Toddler & Preschool (ages 3-5): Our paid sitters are excellent caregivers and love playing with children. We play, hear stories, sing songs and make marvelous crafty things with our skilled and caring teachers. We explore emotions and feelings, being good friends, finding creative solutions to problems and the diversity of the world through an age-appropriate curriculum with experienced teachers.
Elementary: Our 1st-4th graders are learning from the Picture Book Bible Tales curriculum. This fun and friendly set of lessons help our children understand the nature of the religious world.
Junior High: Our 5th-8th graders are exploring Mystery & Riddle from the UUA's Tapestry of Faith curriculum library, broadening their exploration of important issues often labeled Big Questions.
Youth group: Our 9th-12th grade youth group is supported by experienced adults who know how to empower youth while providing gentle guidance and positive role modeling. Youth participate in great discussions and group games, while together creating a warm and welcoming environment where each youth can feel confident to be themselves. Two times per year, the district puts on weekend youth conferences for 9th-12th grade and many in the group attend. These conferences are held with Unitarian Universalist youth from Washington, Oregon, Canada, Alaska, and Idaho and include rich community building, fantastic presenters, youth-led workshops and meaningful worships.

---
Events
No Upcoming Events